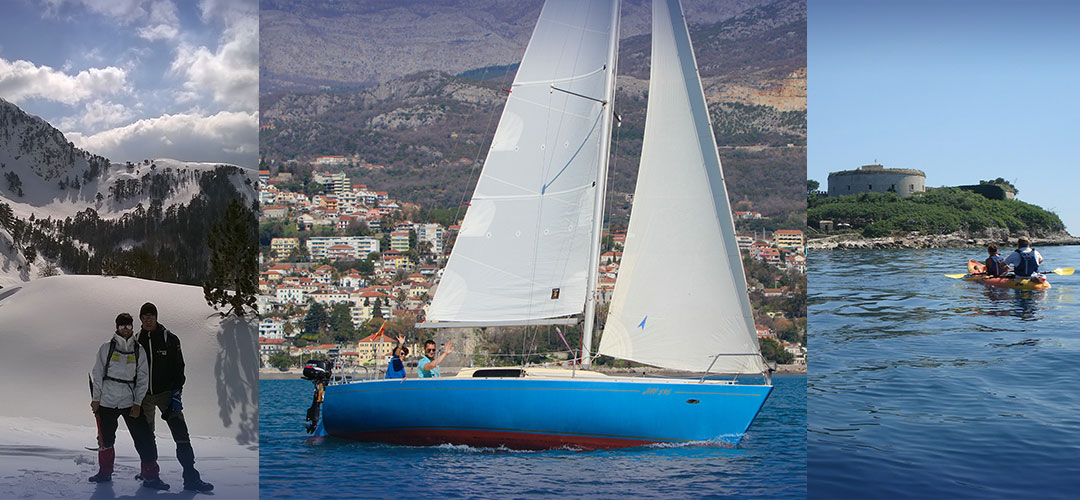 From the sea to the mountains
experience the wild beauty of Montenegro through adventure sports and outdoor activities
We are a couple of outdoor enthusiasts who want to share the adventure that is Montenegro with people of similar interests around the world. Visit us and let us be your hosts. Let us show you around and introduce you to the beauty of our country the best way possible, through outdoor sports. Sail along our coastline and discover its hidden pearls, kayak through the only fjord in the Mediterranean or hike up a mountain for a breathtaking view. Feel, taste, smell, touch, listen, let your senses roam free and experience Montenegro the way we do every day.
When the pearls of nature were sown, on this soil an overflowing handful was gathered. The most beautiful contact between the earth and sea took place at the Montenegrin littoral. - Lord Byron
WATER SPORTS DAY
SAILING, KAYAKS AND BOAT TOUR
This season special is our recommendation for the adventurous. If you are always up for trying new things and love being out on the sea, this is a great way to explore our beautiful coastline in different ways. We start this full day excursion in the morning, when the sea is still calm with a boat and kayak tour. We use the boat to travel between some of the most picturesque destinations along our coast and then paddle around them to get a closer view. Later in the day as the winds develop we move to our sailboat where you can learn the basics of sailing with a licensed instructor while discovering hidden natural coves and lagoons that just call for swimming and snorkeling. All these activities sure work up an appetite so a picnic lunch, snacks and refreshments are provided on board. In the evening we return to our home port enjoying the serenity of a sunset at sea. This excursion is for up to 4 people.
Services
---